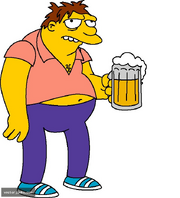 Barney Gumble could've been somebody. A prodigious student with his sights set on Harvard, he could've been a contender instead of a bum, which is what he is. But say what you will about Barney, he's a man who knows love--love for beer. Barney has been known to drink beer directly from the tap, out of used ashtrays and from other places you probably don't want to know more about. He also knows success: In between lengthy sits on his regular bar stool at Moe's Tavern, Barney sang for the Be Sharp a-capella group, directed and starred in an award-winning film shown at the Springfield Film Festival, owned and operated his own snow-plowing business, became an astronaut and, during one of his few lucid periods, dated Linda Ronstadt. In addition to these exciting jobs, Barney has also worked as a leaflet-distributing big baby and sold his sperm to the Springfield Sperm Bank. Oh, and he drank beer. Lots of beer.
Ad blocker interference detected!
Wikia is a free-to-use site that makes money from advertising. We have a modified experience for viewers using ad blockers

Wikia is not accessible if you've made further modifications. Remove the custom ad blocker rule(s) and the page will load as expected.