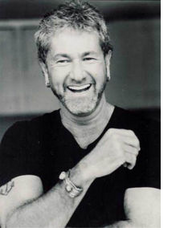 Charles Michael "Charlie" Adler (born October 2, 1956 in Boston, MA) is an American voice actor and voice director. His most famous voice credits include The Smurfs, Tiny Toon Adventures, Cow and Chicken, AAAHH!!! Real Monsters!, I Am Weasel and Rocko's Modern Life.
He has recently achieved fame for starring in Michael Bay's 2007 live-action film Transformers and its 2009 sequel, Transformers: Revenge of the Fallen, providing the voice of Starscream, after having voiced the characters of Silverbolt and Triggerhappy in the 1980s Transformers animated series. Just as Chris Latta voiced both Starscream and Cobra Commander in the Sunbow cartoons, Charlie Adler also was the voice of Cobra Commander in G.I. Joe: Resolute.
Voice Work
Edit
The Transformers - Silverbolt
Loonatics Unleashed - Optimatis
G.I. Joe: Resolute - Cobra Commander
The Super Hero Squad Show - Dr. Doom
Video Games
Edit
Transformers: Revenge of the Fallen - Starscream
Iron Man 2 - Whiplash(Rumored)
Ad blocker interference detected!
Wikia is a free-to-use site that makes money from advertising. We have a modified experience for viewers using ad blockers

Wikia is not accessible if you've made further modifications. Remove the custom ad blocker rule(s) and the page will load as expected.