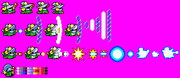 Crash Enemies
Edit
They wander the levels waiting for Kirby to approach, and then unleash a barrage of glassy magic at him when he steps into their range. If the player fires a projectile at this shield-like mirror, it will be reflected off (hence the name) and inflict damage. Also, Simmirrors will occasionally clone themselves and warp around the stage using their magic. However, using the Copy ability (from Kirby Super Star Ultra) on a Simirror results in Kirby obtaining the Crash ability.
Alternate Color
Edit
Simirror are flowing dark purple robes and wear white wizard hats with turquoise stars & hands in Kirby Super Star Ultra.
Section heading
Edit
Write the second section of your article here.
Ad blocker interference detected!
Wikia is a free-to-use site that makes money from advertising. We have a modified experience for viewers using ad blockers

Wikia is not accessible if you've made further modifications. Remove the custom ad blocker rule(s) and the page will load as expected.